Online certificate : Apply for Income Certificate Online in Kerala
Do you need to obtain an income certificate in Kerala, now you do it just by applying online. The online application method is so easy and can be finished in a few minutes. Income certificates are very valuable proof of annual income and are used for helping with various subsidies delivered by the Kerala Government. If you are living in Kerala and looking for a document that proves your income, you just need to visit the website mentioned below and just apply online.
An Income Certificate is a document that confirms that you have attained enough income to support yourself and your family. This document can be used for applying for a loan, getting a job, or accessing any social services.
applying for an Income Certificate online in Kerala, you need to provide your name, date of birth, and proof of income. You can upload the documents or you can submit them through the online form.
Apply for Income Certificate Online in Kerala
If you are looking for an easy method to apply for an Income Certificate in Kerala, then the online application technique is the promising way to go. The Income Certificate is a document that verifies your income and eligibility to obtain government benefits. It is important to have this document if you are trying to qualify for social welfare programs or receive other financial assistance from the government. The online application process is very simple and only takes just a few minutes to finish. You need to provide your name, address, and contact information, also your income and source of income information. Once you have finished the online application, you will get a notification verifying your application has been received by the government.
Step 1: Open the browser and select the e-district website ( https://edistrict.kerala.gov.in/ ). Then Select User Creation on the portal here.
Step 2: Then Type your details correctly in the form. If there is a login, it will be shown there or it will be displayed as Not Exist. Then Type and enter your password.
Select the question to regain the password. Click on the I agree on button below. Then click the validate button.
Step 3: After verifying your Aadhaar, click on the OK button. Then Clicking on the Register button will receive an OTP to the mobile number you signed on. Type it and enter.
Step 4: Click on Login and select there. then Open with the created user ID and passport.
step5: Click on One Time Registration and select applicant registration. The information should be in the name of the applicant. Enter the information correctly here. Select the check duplicate button.
Step 6: If you see verified, click on the OK button. Now you can see a registration number message after clicking the submit button. In the Phone, the account has been created.
Step 7: Next, Select On to apply for a Certificate of Income. Now you can see the currently registered name. Select the certificate here and give it what the name is. Then fill in the income details. Review the property details to see in which district the property is located.
Step 8: Apply. Then make sure that the above-required documents are below 100 KB and upload .otherwise resize the files.
step 9: The next step is to make the payment. Here you can see the payment choices in which you can make an immediate payment by opting for RUPAY CARD.
step 10: Once this is done the application process is finished. The given receipt number can be seen here. If you click on the button and look at the transaction history, you can see the application that you provided for the certificate above.
Income Certificate Required Documents in Kerala
Identity proof.
Self-declaration from the applicant.
Residential Proof: Residential Certificate issued by Local administration office/ Aadhar card/ Passport / Driving License / Ration Card / Govt. Id card / Defence ID Card / PAN Card.
Age proof (birth certificate/school certificate)
Income Proof: Salary certificate, Income proof from the competent authority, and income tax return acknowledgment.
Applicant passport-size photograph.
2 different Gazette Officers certifications (as per requirement)
Education records duly signed
Aadhaar card
Land revenue receipt (in case of the farmer if available).
Affix stamp as advised by authorities if required.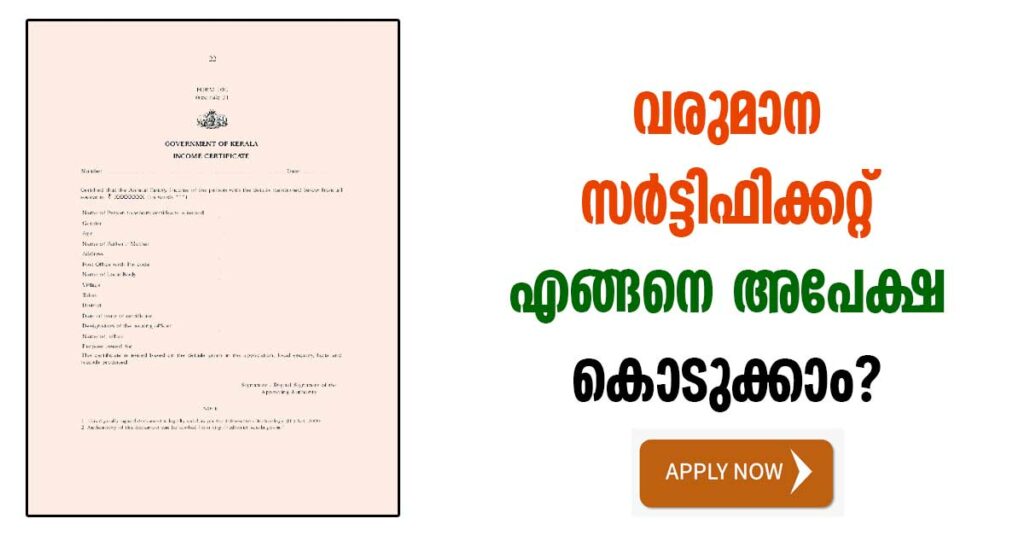 What are the Requirements for Income Certificate in Kerala?
An income Certificate is a document that provides the person who holds it has income above a particular limit. In Kerala, the conditions for an income certificate depend on the category of the person keeping the certificate. There are five types in which an income certificate can be issued: resident, non-resident, agricultural, industrial, and trading.
To obtain an income certificate, you must complete the following conditions
How to Download Birth Certificate Easily click here