land registry title deeds : Download your Land Aadharam Online
Aadharam is one of the important documents written by an official licensee or persons in stamp paper as per the worth of land and is registered registrar's office about the transaction made to a property. It may be a will or a transaction. It contains details of the area boundaries and sketches of a certain piece of land. Aadharam is an essential document of the land. It is a document which is established one's right to land. Once this document is lost, we have to suffer a lot because the evidence is lost or stolen, and it is not possible to take a loan or enter into an agreement to do business with the land.
We know that the app the service of the state government is now available online so we can get a duplicate copy of Aadharam online also, each Aadharam will have its number. The relevant data will be obtainable based on the registration department in connection with the registration of land. So now anyone can check all the information of their land base just using the mobile by using the Aadharam number.
After the covid situation persists it's an annoyance to go to the village office or to search the information. So here's how to get all the details related to the aadharam online. Explains how to use the aadharam number to know all the data mentioned in it through mobile/laptop.
We can get a certified copy of the Aadharam online. All you need to do is apply online at the Sub-Registrar's office to obtain the proof and need to pay the fee as e-payment. The originals of the papers which were obtainable on Rs 50 stamps are now available online. At current, over 9 lakh people visit the offices every year for a certified copy of the original document. There was also the need to search for the help of mediators applies. But with the beginning of online, we can avoid these problems.
Aadharam is scanned and stored as part of the transit and is made available online. The practice of buying and keeping documents from the Aadharam writers was discontinued. The source will be scanned and stored and the Sub-Registrar is also has been directed not to receive file documents given by the Aadharam writers after changing to a digital system. now we can apply for a copy from anywhere and download and print it without going to the Sub-Registrar's office directly this technology was developed by the National Informatics Center.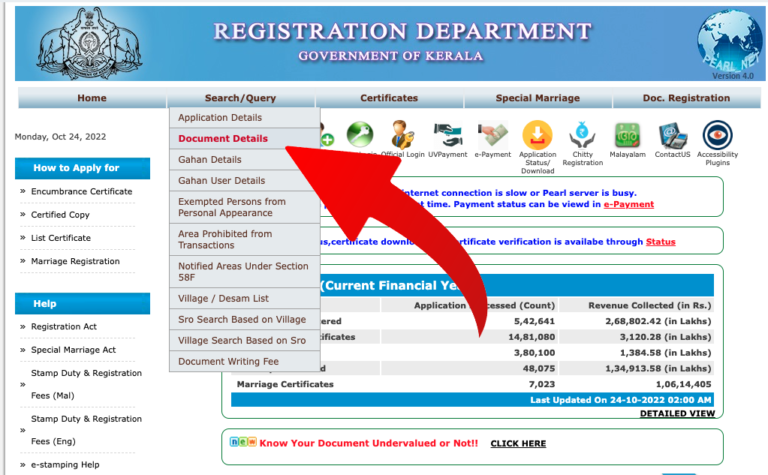 Steps to follow:
1) Open Website
2) Click the "Search / Query" Tab
3) Click the "Documents Details" Link
4) Fill in the details
Read more >> Land value in Kerala check in Kerala online