Malayalees are very fond of innovations and they also want to bring lifestyle changes as well. lots of us love to watch movies in any language. Today it is difficult to go to theatres and watch a movie, so most of them prefer to watch movies at home using numerous OTT platforms. The main issue here is that we can only watch unlimited movies if we pay a certain amount and get a subscription. Not just that but often some movies we want may not have to get OTT platforms. But now there is a solution for this, here is an app SAINA play , that allows anyone who adores movies to see their favourite Malayalam movies online. Understand more about the benefits of trying this online movie app and how anyone can use this platform.
SAINA vision is a brand which very common for the Malayalees audience. saina play is an OTT platform which totally for Malayalam movies, for more than 400 Malayalam movies are now available on this platform. It's worth mentioning that decent movies can be seen by bringing the latest films to the audience using modern technology. All saina play is now available on Android and iOS. And also SAINA PLAY will be available soon on Android TV and fire stick platforms.
HOW TO USE SAINA PLAY APP FOR WATCHING MOVIES?
First, you need to go to the Play Store on your phone and type SAINA PLAY. Then select the application and then install it. SAINA PLAY will be shown with the logo when the app is opened. And SAINA Videos logo also can be seen. you can see the list latest movies released on the page. And also watch New Release, Saina Music, Saina Originals and other Upcoming Release. When it comes to the home list, films are categorised in various ways. In this, we can select the movies of our choice. And a special section called SAINA Original. New releases and super-sites are all in the premium category. That is, these are paid movies
To make the payment, click the crown symbol at the bottom of the screen and select the option written as Premium. When you click on it, you will see various plans and the price paid for them. That says you have to pay Rs 99 for one month, Rs 399 for six months and Rs 699 for a one-year subscription. You can make the payment by choosing one of the online payment methods of your choice. You can now watch movies endless for the interval of the subscription period.
Using this one app you can rejoice the required movies at home with high quality, and with good quality audio. Also, those who need to watch movies with English subtitles can get them. Initially, only Malayalam movies are available but in the forthcoming, the company declares that movies in all languages ​​will be available on Saina Play and There is no doubt that SAINA PLAY is an app that can be used by everyone who admires Malayalam movies.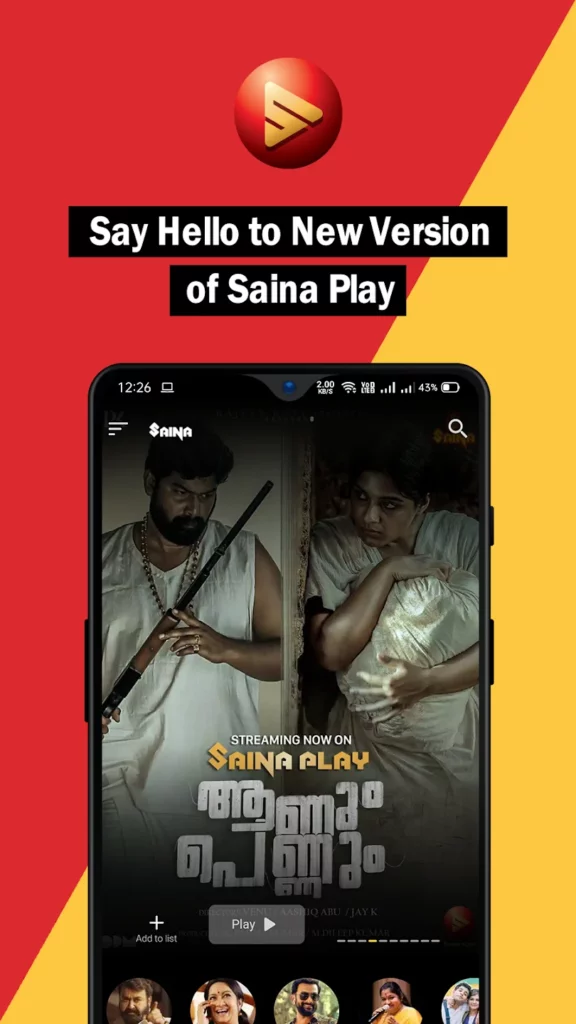 Watch Malayalam Movies on your smartphone. Watch Over 300 + HD Movies on Saina Play.
Saina Play is the world's leading subscription service for watching regional indian movies on your favorite device. This Saina Play mobile application delivers the best experience anywhere, anytime.
Get the free app as a part of your Saina Play membership and you can instantly watch thousands of movies on your mobile device. The Best platform to explore malayalam movies & original content.Over 300+ titles available to watch.
If you are not a Saina Play member sign up for Saina Play and start enjoying immediately on your mobile device.
How does Saina Play work?
Saina Play membership gives you access to unlimited movies for one low monthly price.
• You can Browse a growing selection of thousands of titles, and new episodes that are added
regularly.
• Search for titles and watch immediately on your phone or on an ever expanding list of
supported devices.
• See rating to assist you in your movie selection.
• Check out Saina Play for all the TVs, Roku & Iphone on which you can watch Saina Play.
By clicking INSTALL, you consent to the installation of the Saina Play application and any
updates or upgrades thereto.
https://www.youtube.com/c/SainaPlay