cafu app is transforming car services to be simpler and smarter,
Your time is precious, which is why we want to take the everyday inconvenience out of your lives. With our fuel delivery app, get your car or your entire fleet refuelled and serviced while you're at home, work or play.
On-demand car services you can get with the CAFU app
• Fuel Delivery (for most vehicle types, including yachts and boats)
• Car Wash
• Engine Oil Change + 10-point Vehicle Check
• Battery Service
• Tyre Change + 24-point Vehicle Check
Delivery locations:
Get our on-demand vehicle services in the United Arab Emirates in Dubai, Sharjah, Ajman, Umm Al Quwain, and Abu Dhabi (car wash service only).
How cafu app works:
1. Download the CAFU app
2. Register your details
3. Add your vehicle & payment details
4. Pin your location to book a contactless service to your doorstep
It's so much better with CAFU:
1. On-demand. Anytime, Anywhere.
2. Contactless.
3. Convenient.
4. More time to enjoy the things you like doing.
We aspire to make enjoyable, through cutting edge technology and best-in-class products and customer service.
More about our services:
Contactless Fuel Delivery:
You no longer have to waste time waiting in petrol station queues. We deliver petrol or diesel to your car, boat, bike, truck or adventure vehicles anytime, anywhere in Dubai, Sharjah, Ajman and Umm Al Quwain for the same price as at your local petrol station, with no delivery fees.
On-demand Car Wash:
Choose from our range of eco-friendly car wash options, including SuperShine™ Exterior, SuperShineTM with Interior, Steam Wash or Steam Sanitization. CAFU car wash uses high-quality wax sealant, leaving a long-lasting shine and protective layer.
Engine Oil Change:
Our engine oil change service will leave your car engine fully protected, delivering excellent all-round performance. We use top-quality Mobil™ products as well as conduct a complimentary 10-point vehicle check.
Battery Service:
Whether you need a jump-start or a car battery change, we could be with you in as little as 30 minutes from 6am to midnight. We've designed the CAFU Battery Service to get you back on the road as quickly as possible. Our specialist truck carries a variety of batteries to meet your needs and your budget.
Tyre Change:
On-demand tyre change service which includes tyre check, change and balancing is available across Dubai. Now, changing a tyre is more convenient than ever – our trained tyre technician will come to you in as little as 30 minutes to replace your old tyres, as well as check and correct your wheel balancing. We carry a range of leading tyre brands, all of which come with a comprehensive warranty.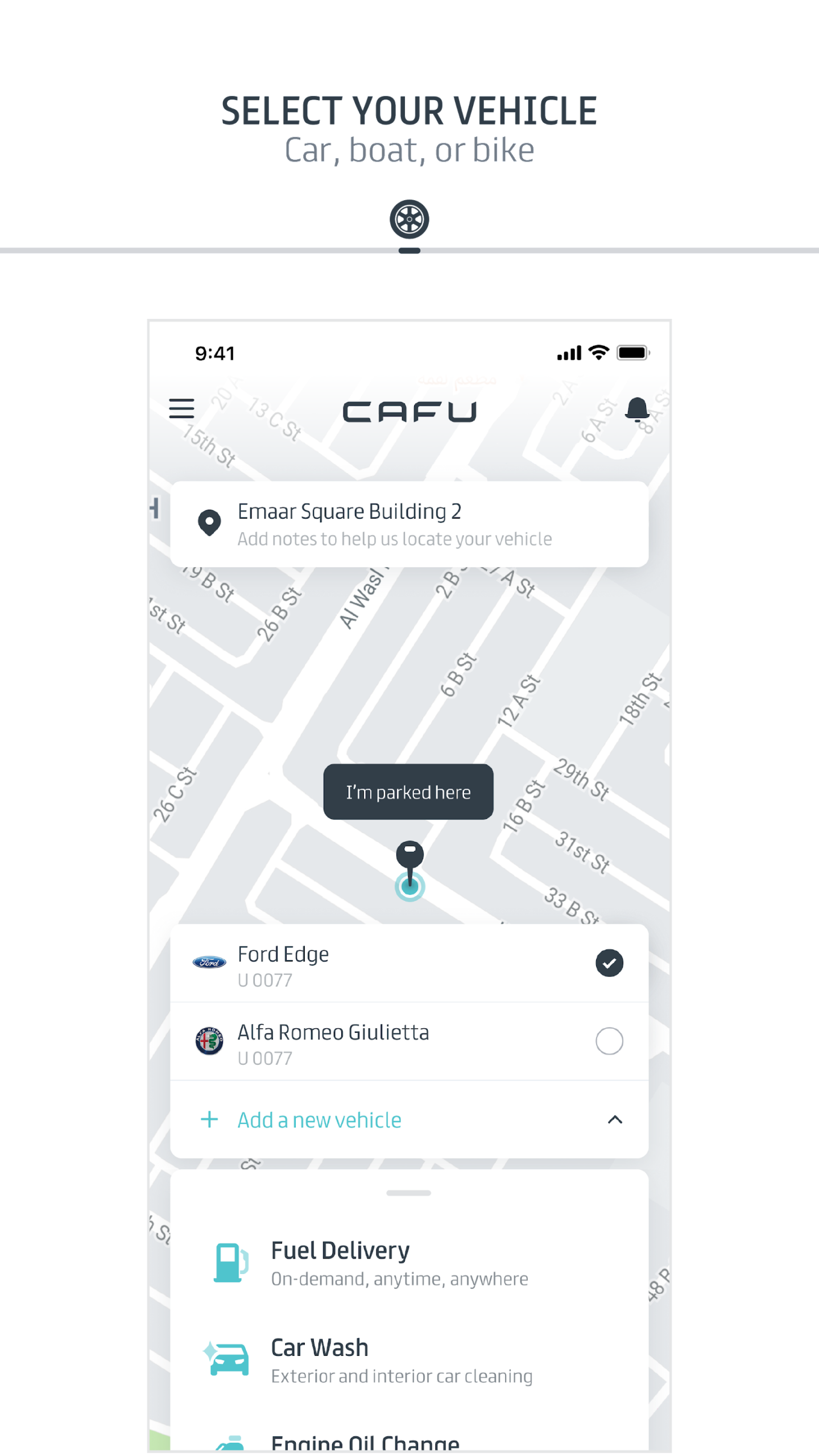 Download the CAFU app today and get started.
Simpler. Smarter. CAFU.
cafu app download
DOWNLOAD NOW : ANDROID
DOWNLOAD NOW : IPHONE
pay easily Building Tax and Property Tax through Online? this is the solution