Welcome to Tata's new app, the Super App that ensures the ultimate shopping experience. Get exclusive offers, privileges, and rewards every time you. It's your one-stop-shop for a seamless shopping and payments experience. Pay immediately for any of your online and in-store purchases, utility bills & more, using Tata Pay. Combining the Tata group's most trusted brands all into a single super app, this app offers exclusive privileges and benefits across categories.
Order groceries from BigBasket.
• Get a test from 1mg
• Book a stay at an IHCL hotel
• Buy electronics from Croma
• Order a meal on Qmin.
• Style up your wardrobe with Tata CLiQ and Westside
• Book a flight on Air Asia
What is this app?
This app is built to offer customers a complete yet highly personalized shopping experience. The result of over two years of research, development and testing, it can truly be called a "super app" and intends to offer its customers an extraordinary shopping experience. Incorporating the most trusted brands of the Tata group into one convenient outlet offers users an unrivalled degree of versatility and choice. With categories ranging from electronics and groceries to travel and more, the range of products and services is second to none.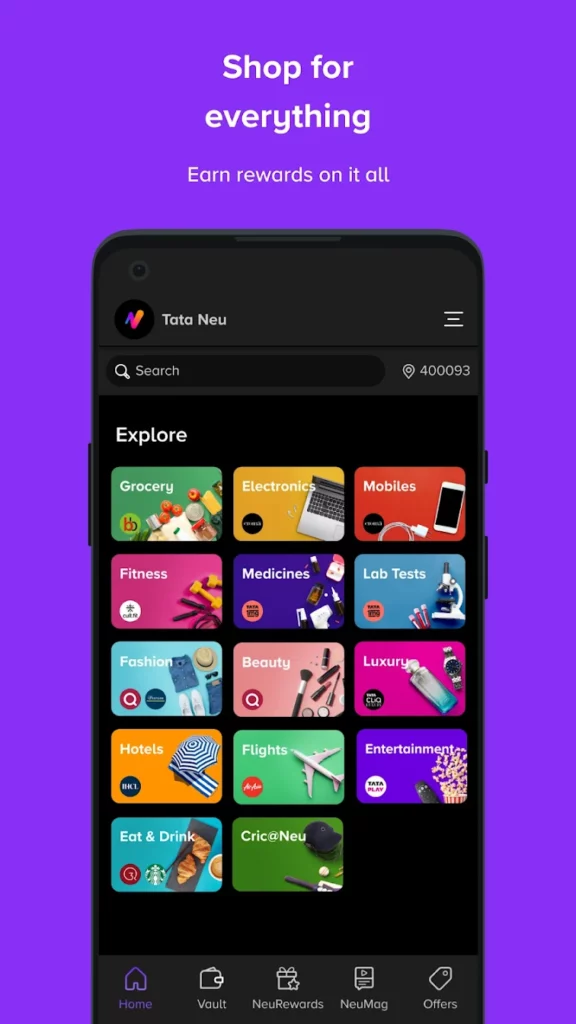 What are the benefits of this app?
From impressive offers an integrated loyalty policies for Tata brands to exclusive benefits and various payment choices, this app has a lot to offer its users. It's a true cross-category shopping experience and allows customers to:
Style up their wardrobe with Tata CLiQ and Westside
Purchase the latest gadgets from Croma
Order groceries from bigbasket
Book a flight on Air Asia
Get health checkups through 1mg
Book a luxurious stay at an IHCL hotel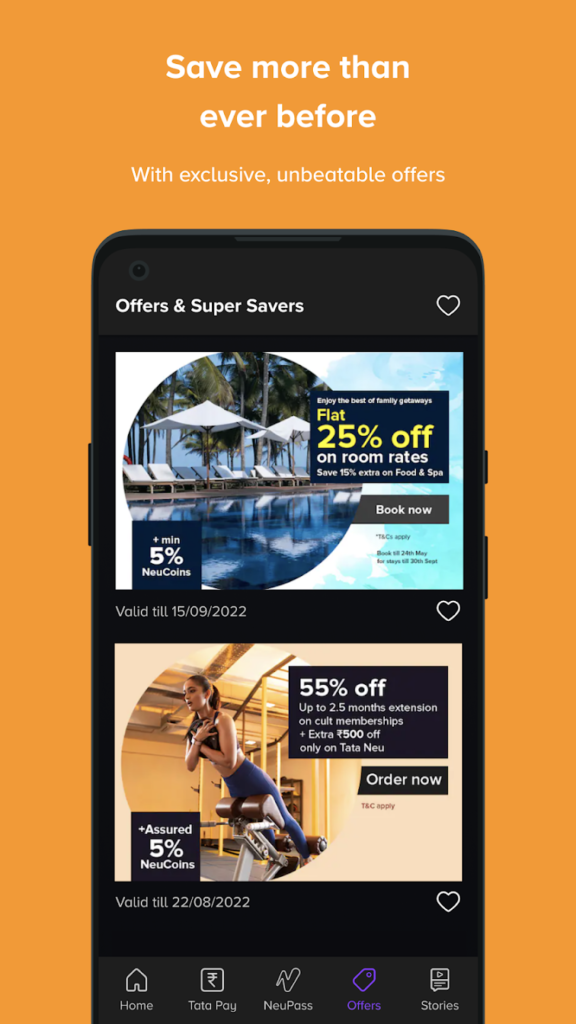 Order a 5-star meal on Qmin
What are NeuCoins?
NeuCoins are the gifts a customer earns when they transact on this app, website or in branded shops or hotels. They can then save these NeuCoins on future purchases. 1 NeuCoin is worth ₹ 1 and there are no limits on how many you can earn or use.
What is NeuPass?
In short, NeuPass is an upcoming Tata Neu-exclusive membership service that will provide its subscribers with various unique Tata-branded privileges. It allows members to at least 5% additional NeuCoins for every in-app purchase, in addition to other advantages to be announced shortly.
What financial and payment services does this app offer?
This app enables users to receive rewards for all credit card spending and instantly access funds such as personal loans and lines of credit. It also allows them to safeguard their wealth and develop their wealth through tailor-made insurance plans created primarily for them. Paying bills has never been easier. Users can also use Tata Pay UPI to send money directly to their bank account to a friend, family member or one of their contacts.
What are 'Stories'?
'Stories' is this app's in-house digital magazine. Focused on building lifestyle-focused articles and videos, of integrity comparable to leading publications, it seeks to entertain, educate, and inspire readers. Presently focused on the themes of technology, fashion, food, and travel, its high-quality subject speaks for itself.
New things you can do with Tata Pay:
• Merchant Payments: Process payments across multiple Tata-branded apps, websites, and in-store using NeuCoins, Cards, UPI, EMI, and more.
• QR payments: Scan and pay with a QR code at any retailer of your preference. Be it local stores, theatres, pharmacies or any other business, scan any QR code and transact with Tata Pay UPI
• All your bills at once: Easily track and pay your utility bills, cellular, DTH, broadband, top-ups and more, all in one try
• Instant Payments: Send cash from your bank account directly to a friend, or family member or contact their bank account with Tata Pay UPI
Download for Android phones
https://play.google.com/store/apps/details?id=com.tatadigital.tcp
Download for iPhone
https://apps.apple.com/in/app/tata-neu-rewarding-experiences/id1584669293